Honduras vs. Panama 2012 World Cup 2014 Brazil Qualification soccer match.
Join us for live updates of the Honduras vs Panama soccer game Friday October 12th, 2012 at 8:00 PM Local time. 10:00 PM New York time for the soccer match that will be played in Panama. The President of Panama has offered $20,000 Dollars to each Panamanian player if they beat our Honduran Catrachos! Guess they have more incentive now but the Honduran National Soccer team is currently favored to win and win they MUST in order to stay alive in the quest to qualify for the World Cup!
National Team Roster:
PANAMA: Jaime Penedo, Román Torres, Eduardo Dasent, Felipe Baloy, Luis Enríquez, Armando Cooper, Grabriel Gómez, Amilcar Enríquez, Alberto Quintero, Blas Pérez and Luis Tejada.
National Team Coach: Julio César Dely Valdés
HONDURAS: Donis Escober; Víctor Bernárdez, Arnold Peralta, Maynor Figueroa, Emilio Izaguirre; Jorge Claros, Luis Garrido, Boniek García, Mario Martinez; Jerry Bengtson and Carlo Costly.
National Team Coach: Luis Fernando Suárez:
Game Over
Honduras 0 – Panama 0
90 minutes into the game still tied 0 – 0 3 minutes of extra time awarded
Second Half has begun! Lets go Catrachos!
Half Time
Follow the minute by minute by the Catracho Team at Catrachos.com
The Honduras National Soccer team begins practice on Monday October 1st in preparation for their extremely important match vs Panama which they must win in order to stay alive in the quest to qualify for the 2014 Brazil World cup. The Catrachos must win vs Panama and vs Canada on the Tuesday the 16th of October 2012.
The National Selection Team Coach Luis Suarez has selected the following players to practice for the games:
UPDATE: 10/09/2012
Honduras Selección player Roger Espinoza will be unable to participate in the FIFA World Cup Brazil 2014™ qualifying matches for Honduras on Oct. 12th and 16th against Panama and Canada.
Roger Espinoza, "El Chino"
Fans are running a gamet of emotions after the Honduran soccer player injured his ankle while playing for the Sporting Kansas City team in the USA this past weekend. The talented "futbol" player could be out of commission as long as a month. Espinoza tangled with Andy Gruenebaum near the end of the USA match (a 1-1 draw), and had to be taken off the field in a stretcher. He was officially diagnosed with a right anterior medial ankle sprain.
Espinoza, nicknamed "El Chino", is 25, and was one of three overage players selected by head coach Luis Suarez to represent Honduras in the Olympics sub-23 competition earlier this year. Espinoza gained world-wide recognition with his soccer expertise at the Olympics, but he is no stranger to pressure. El Chino has made numerous appearances for the Honduras National Team at the highest levels, including the UNCAF Nations Cup, CONCACAF Gold Cup, and FIFA World Cup.
Wilson Palacios is rumored as a possible stand-in for Espinoza in the FIFA World Cup Brazil 2014™ qualifying matches, as he is currently in La Ceiba, Honduras on personal business.
Goalies: Noel Valladares (Olimpia), Donis Escober (Olimpia) y José Mendoza (Marathón).
Defence: Johnny Leverón (Motagua), Wilmer Crisanto (Victoria), Osman Chávez (Wisla Cracovia, Poland), Arnold Peralta (Vida), Maynor Figueroa (Wigan Athletic, England), Víctor Bernárdez (San José Earthquakes, USA), Juan Carlos García (Olimpia), Emilio Izaguirre (Celtic, Scotland), José Velásquez (Victoria).
Midfielders: Edder Delgado (Real España), Boniek García (Houston Dynamo, USA), Mario Martínez (Seattle Sounders, USA), Jorge Claros (Hibernian, Scotland), Roger Espinoza (Sporting Kansas City, USA), Marvin Chávez (San José Earthquakes, USA), Luis Garrido (Olimpia), Mario Berríos (Marathón).
Forwards: Roger Rojas (Olimpia), Mitchel Brown (Marathón), Júnior Lacayo (Victoria), Georgie Welcome (Motagua), Carlo Costly (Veria FC, Greece) y Jerrry Bengtson (New England Revolution, USA).
Be sure to bookmark this page and join us for live updates of the Honduras vs Panama soccer game on Friday October 12th, 2012
 
World Cup 2014 Brazil
Qualifying Match Results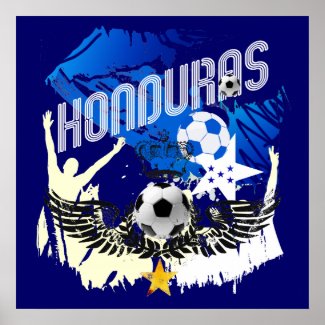 Honduras Grunge flag futbol fiesta soccer design Poster by SoccerJersey
View more Honduras Posters
Here are the Current Live, Upcoming Previews, and Historic Reference of Honduras soccer matches covered by Honduras.com
Check our Honduras Facebook page for more up to the minute information about Honduras.